If you are looking to immigrate to New Zealand from South Africa then you have found your new home. This is the biggest and busiest website for South Africans looking for a new life in New Zealand.
Our aim is to help you get through your research, application and settling in process as smoothly as possible and we have heaps of articles and tools to help you do that. We even have a busy forum with over 100 000 posts about absolutely every aspect of immigrating to New Zealand and living in New Zealand.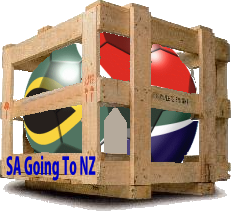 (If you are not a South African, but want to immigrate to New Zealand, you are obviously also welcome here)
Howzit and thanks for visiting.
At SA Going To NZ we have become a community of like minded immigrants / immigrants-to-be from South Africa who believe in paying it forward. In other words, those who have gone before remain on the site to help those who are following. Here you will find South Africans thinking about immigrating to New Zealand, others who are waiting for their paperwork to be approved and also those who have since become New Zealand citizens. All the information and help you need to get your immigration sorted is here already, all learned the hard way and passed on to you so you don't have to battle with the same immigration problems others had and so you can, in turn, help those in the immigration queue behind you later on.
As many of us are leaving all our family behind in South Africa, so the SA Going To NZ community becomes our new family, with all the fun and support that goes with it. We laugh with each other in good times,  offer moral support to each other when the going gets tough, shed a few tears and congratulate one another when the goal of holding that passport with the fern on the cover is achieved.
Another way of staying connected is through THE SOUTH AFRICAN MAGAZINE, which connects South Africa and New Zealand, giving you a platform to tell your story, advertise your business or product or just to make you feel a little more at home. On this website you will find all the issues of the magazine for you to peruse. Give the magazine and advertisers all your support. Please contact Sherelee Clarke at sherelee.samagazine@gmail.com.
There is not just heaps of info and support on the site but also many interactive services like budget planners, calendars, etc. In order for us to personalise these services we recommend that you create yourself a FREE account on the site – yes it's FREE and also 100% anonymous.
Ja, U is natuurlik welkom om in Afrikaans ook te gesels.
To get going on our site click the Start icon above
To return here, click the fern logo at the top of the page that looks like this:

Once you are logged in a whole new immigration experience awaits you!